So today's trip was up to Arethusa Falls the largest falls in NH. 1.7 miles up and sure enough it was one very large waterfall the likes of witch I have never soon before. But honestly I thought the cascading falls close to the trailhead and on a side trail were more visually interesting. So I went back to the car put all the big cameras in the pack and away I went to expose some film. 4 rolls and another 10 sheets of film later I packed out before dark. My bags got wet. And even dropped my loupe in the water and my new empty water bottle but apparently I wasn't supposed to loose either as they were both easily retrieved. Now I have a spot to shoot the stars in the notch. So I should have good stuff for tomorrow's lectures :-). Hope you can make it!
Met a wonderful state worker, Sarah, and we had some fun conversation as we watched for shooting stars, and the Milky Way wandering by in the sky. The timelapse looks fantastic! the Milky Way rolling to the west to set.
It was fun to catch the Milky way with the other camera as well with the Crawford Notch Visitors Center in the foreground.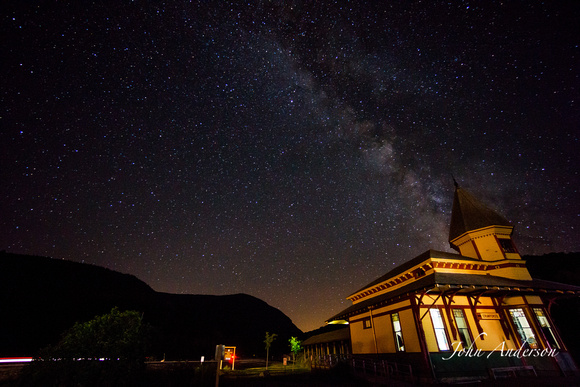 And of course The falls. There are some I haven't worked on yet, a panorama of a lower part of the falls, I was more struck with the rock than the water actually