So I have moved north to be closer to the bridge project that will happen on Tuesday, NO Thursday, NO next Monday....well, I know it will happen :-) and Ill be there when it does. Cameras in hand and ready to capture it in Time lapse from multiple angles. But until then, I am close to the Presidentials, so I am out exploring. Always looking for those not as often used trails. So Off I go on the easterly trail up Madison on Tuesday. I saw Nobody all day. Hmm. Saw some great little water falls, Some of the most interesting pine forests, and what must be Moose Bathroom! Yep, Moose poop covering the trail. for a good .2 mile! just all over the place, maybe there was a convention. Regardless I had a great day out in the woods.
NO panoramas today, but I stopped and took photos here and there and before you knew it, It was time to head back down the mountain. Hmm, never saw the summit. But that is fine. I found some interesting places, Moss lined forest floor, Pine forest with two levels, 4 foot pine and 40 foot pine, Nothing in the middle. Odd. I had trees talkin to me, and snakes slithering away from my feet. In all a cool day. I am enjoying playing with the Infrared and false color. Using slightly more visible light (red) and the infrared and getting a bit of color separation. Living stuff is lighter than the dead stuff, so there is a color contrast in the files, it is just up to me to pull it out. Blue sky and yellow foliage seems most reasonable. Magenta and green is just weird.
Today, Wednesday I drove my tired knees down to 'Tripple Falls' and packed in my big camera. Beautiful! Makes me think of the Flume Gorge. Deep cavern with a trickle of water running through. A GREAT place for a panorama. Tough to get into, but what a great spot. In the early morning light, the exposures are long, and the water looks marvelous. Only slipped twice on the rocks getting out there! My collection of bruises is growing.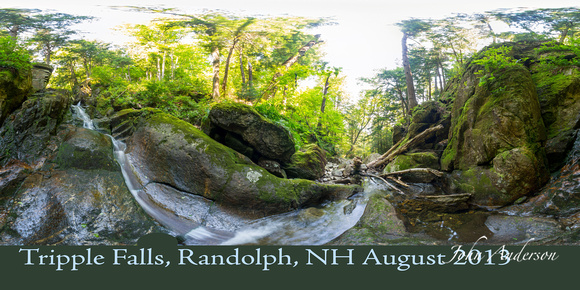 Tomorrow, looking to get to the 'Pond of Safety' what a great story about what happened there. Ill let you know!