What a workout. Still getting ready for a long August by loading up my pack with cameras, a spare set of socks, some gorp, lots of water, a tripod and away I go. This time 5 cameras :-) I wanted to get some time doing a timelapse. So I went up a tough climb up the Sandwich Mtn trail to Noon Peak. starting at just below 1500 feet and climbing upto 2950 in about 2 miles. That is some good elevation, and boy did I feel it. I was drawn to some of the steep parts with the trees and their roots over the boulders. I found some interesting things as well. Lady slipper, even a yellow one, but it was too tough to get to to get a good photo. The pink one however looks like it is ready to make its own trek up the hill. I loved some of the green, the moss overtaking the rocks and downed trees. The spots of light through the canopy.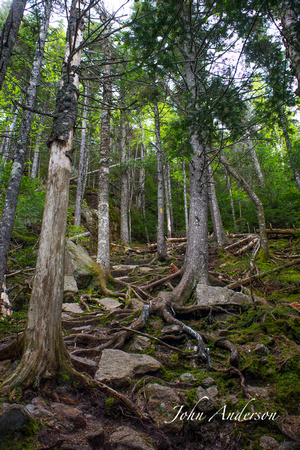 I took 2 hours of shooting at the summit to capture enough frames for the timelapse. I still need a couple things for making this a few steps better, a lighter tripod for one. I enjoy the framed view from the summit with the trees and bush waving in the wind. the clouds were really moving.
New digital for IR was fun. I thoroughly enjoy the trail, the black sky and the bright foliage
Glad to get going back down. I didn't stop to capture the great light after 5. lighting up the forest in great dramatic light!